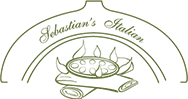 Private Hire at Sebastian's Richmond
Here at Sebastian's we pride ourselves on using the freshest and finest Italian ingredients, we are able to create bespoke menus to suit your every need and a selection of tailor made packages to suit your event. For Italian people food is not just nourishment but it is life, it is a means for establishing and maintaining ties among families, firends and collegues. Hospitality and flexability come high on our list of priorities and we would like to share these values with every customer on their dining experience with us.
Our unique private dinning space is a bright, spacious, soundproofed space able to hold any event, it also boasts a heated external terrace and indiuvdual self controlled tempreture settings. The room provides intimate exclusivity to cater for your every need, be it a three course sit down meal for 40 people or a canape and drinks reception for up to 80 people.
Prices and variations are on quotation